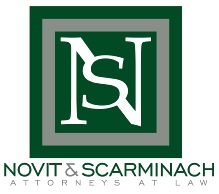 "Serving the Lowcountry Community Since 1967"
Novit & Scarminach, P.A.
52 New Orleans Road
Jade Building Suite 400
Hilton Head Island, SC 29928
Mailing Address:
Novit & Scarminach, P.A.
P.O. Drawer 14
Hilton Head Island, SC 29938
(843) 785-5850
(843) 785-2090 (FAX)




This website is intended for use in South Carolina, only; although our attorneys are also licensed in New York, Tennessee, California and Ohio. No portion of this material should be construed as legal, accounting or financial advice. It is merely intended as general educational information and does not necessarily represent the planning that should be implemented in your particular situation.

limited partnership, limited liability partnership, S Corporation or C Corporation) is best to meet your growth and financing needs while maximizing tax advantages. That includes help implementing the appropriate management and organizational structure that are best suited to meet any business planning need.
We assisted our clients on a variety of financing transactions and our most familiar with financing options available to the small business owner. We have prepared private offering memorandums for private offering enterprises and have assisted with venture capital financing. As advisers on commercial loan financing, our lawyers work with you to handle the documentation and negotiation of loans, letters of credit, asset-based financing, special purpose financing and all other commercial financing lending.
We also represent buyers and sellers in a wide variety of acquisitions and sales transactions. We can provide assistance with the structuring, negotiation, documentation and closing of the transactions, using the firm's resources for everything from due diligence to creating business structures. We will provide the assistance you require to negotiate and prepare letters of intent, conduct due diligence investigations, structure acquisition and lending agreements, and form special purpose entities for completing the transaction.
We have participated in the business and transactional legal process for most of the modern history of Hilton Head Island, South Carolina, having represented its original developer, Charles E. Fraser, from the early 1970's, and we are familiar with the special needs of doing business in this area.
Corporate & Business Transactions
The Novit & Scarminach Corporate and Business Transactions Division is led by Charles A. Scarminach, a Martindale-Hubbell AV Preeminent Rated Lawyer for over 25 years and one of the most experienced business practitioners in the area. Our lawyers can help you choose the right business entity form to minimize your tax liability and help you evaluate which type of organization (such as a limited liability company,