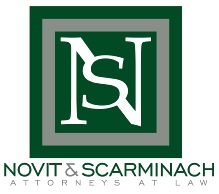 "Serving the Lowcountry Community Since 1967"
Novit & Scarminach, P.A.
52 New Orleans Road
Jade Building Suite 400
Hilton Head Island, SC 29928
Mailing Address:
Novit & Scarminach, P.A.
P.O. Drawer 14
Hilton Head Island, SC 29938
(843) 785-5850
(843) 785-2090 (FAX)




This website is intended for use in South Carolina, only; although our attorneys are also licensed in New York, Tennessee, California and Ohio. No portion of this material should be construed as legal, accounting or financial advice. It is merely intended as general educational information and does not necessarily represent the planning that should be implemented in your particular situation.

We have experience with due diligence issues, environmental liability, title, deed and other problems during negotiation, contract execution, financing, closing and post-closing matters.
We also have significant background in real estate development, shopping center, office, hotel and resort, mixed-use or residential development projects. Using the experience we've gained from our practice in these areas, we can help you get through the many details of large scale real estate development.
We work with purchasers and sellers of single-family homes, townhouses, and condominiums. Over the past 40+ years, we have represented thousands of purchasers and sellers in the real estate closing process to include contract drafting and negotiation, financing and insuring that the closing itself is without delay or complication. We have also worked with purchasers and sellers of residential lots and homes in private communities and are familiar with interpretations of land use covenants, architectural review boards and community association issues.
We often assist our residential clients and developer clients to secure real estate and mortgage loans to finance their purchase of individual homes or home sites and large projects as applicable. We work with many commercial banks, lenders and mortgage brokers in all types of construction, purchasing, refinancing and permanent loans secured by real property. As our client, we'll help you with all aspects of structuring and negotiating your loan, including commitment letters, loan agreements, notes, mortgages, title insurance and other collateral documents.
Over the years, we have performed more real estate closings than any law firm now in existence in Beaufort County. We can provide title insurance through major title insurance companies. This includes work with residential and commercial closings, underwriting title insurance commitments and policies for transactions, and coordinating title exams performed by our subsidiary title examination group located in Beaufort, South Carolina where the county office for recordation of documents is located.
Our firm looks forward to representing clients purchasing their first home or the large developer planning a significant community development. We pride ourselves in having done substantially all the legal work involved in perhaps the preeminent planned community in the State of South Carolina, Sea Pines Plantation on Hilton Head Island. For this work, we were honored by the prestigious Urban Land Institute of America.
At the same time, our experienced attorneys and staff know how to guide an out-of-state purchaser of a retirement home through the complicated legal process inherent in home ownership in this area.
Real Estate Transactions
No matter what your real estate needs are, we can help you achieve them. We represent commercial property owners and developers, landlords and tenants, commercial and residential lenders, and residential home buyers and sellers. Our legal team will provide you with advice and experience, necessary to achieve closing in an efficient, timely and financially reasonable manner.